We're excited to announce AccuLoc6, the next generation in Flexible Tooling technology. This revolutionary system delivers unrivaled flexibility, verifiability, reliability, and efficiency – all at a fraction of the cost of traditional systems.
A tale of two flexible tooling systems
This type of Flexible Tooling System is used to precisely hold three dimensionally curved parts, such as airplane skins, for trimming and drilling operations. These systems can be programmed to hold different shapes, versus having to build dedicated tooling for each shape, which can cost hundreds of thousands of dollars for each new airplane.
Since we had previously designed a Flexible Tooling System that worked great for a previous customer, we were confident we could do another one, even though there are major differences in the two systems. For the 2nd application, the actuator had to be re-designed and numerous changes made so each actuator could be moved to every table location.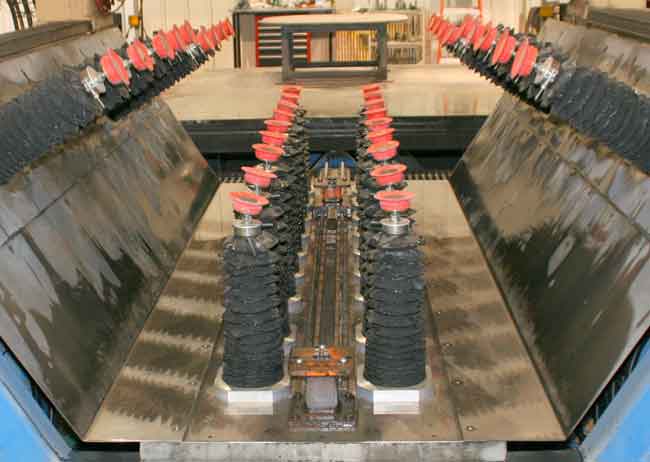 1st system with 36 pockets, populated by 36 actuators
2nd system with 637 pockets, populated by 300 actuators
The 1st system had 3 tables with a total of 36 pockets, all of which were populated with actuators. The 2nd system had 7 tables with a total of 637 pockets, but to keep the initial cost down the customer only purchased 300 actuators. The 2nd system had to be designed so additional actuators could be added at a later date, and have the capability to be moved from one pocket to another in order to hold different sized parts. Since the 1st system had tables that were fully populated with actuators, it was designed so the drives and valves for each actuator were in separate electrical cabinets.
However, this approach didn't work for the 2nd system because that would have meant mounting and wiring 637 drives and valves, but using less than half of them. This would have been prohibitively expensive, so we designed the 2nd system so each actuator is self contained, with its own drive and valves to control air and vacuum and monitor the vacuum pressure.
The 2nd system was further complicated by the fact that we were not able to find a servo drive manufacturer with software to control 300 drives initially, and then be able to scale up to 637 drives should the customer choose to do so. To address this issue we researched and selected drives that communicate serially over multiple networks and can be expanded to thousands of devices if needed. However, this created another challenge. There was no existing Master Controller software available to handle communication between the actuators, the HMI and the router controller, so we wrote it from scratch with TwinCAT. The programming was a large project since all actuators in the system have to be monitored continuously, and movement, vacuum and air commanded selectively according to the customer's part programs.
Designing a system to do what had never been done before
The 2nd system had to be able to hold thin (0.02 inch) aluminum skins. As far as we knew this had never been done before. In order to meet this requirement, we designed the tables so the actuators were spaced 8 inches on center. Then we designed offset arms that allow the operator to place the end effector for each actuator in 400 different positions, allowing an end effector to be placed every 1 inch, anywhere in the work envelope!
Other requirements for this system was to be able to accurately hold customer supplied fixtures for locating the parts, and to be able to "duck" out of the way of the cutter, and then "unduck" once the cutter has gone by. Unlike part positioning moves which are in absolute positions, "ducking" and "unducking" moves are relative. Timing and distances for ducking moves are fully customizable and are controlled from customer's part programs.
Sourcing parts from overseas manufacturers
Due to the large number of actuators in the 2nd system, the cost per actuator had to be reduced by approximately 60% as compared to the first system in order to meet customer budget constraints. This was one of the most challenging aspects of the project because the second system also had more capabilities than the first. In order to keep the 2nd project within budget, we researched and found overseas manufacturers to custom make many of the parts according to our drawings and specifications.