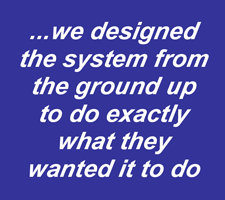 In 2003 one of the major aerospace manufacturers set out to acquire a special stack routing system. There were no standard systems available that had the capabilities they needed, so they decided to have it built to their specifications. We provided complete design and integration, and worked closely with a machine tool builder who assembled and installed the system. Together we provided a complete, turnkey system for the customer.
Based on the customer's 43 page specification, we designed the system from the ground up to do exactly what they wanted it to do. For example, since the accuracy requirement was 0.001″ over the entire work envelope we designed the router with linear motors, rather than using conventional mechanical drives. When a machine is designed for linear motors they provide the most accurate and reliable drive system available, in addition to being capable of delivering high acceleration and traverse rates.
The mindset of designing from the ground up to get the desired result was also key for successfully implementing the other special capabilities that had to be incorporated into the system. From automatic material transfer, to the sacrifice sheet return system, each capability was designed into the system from the beginning in order to achieve the desired result in the most cost effect way.
Material transferred into, and out of system without operator intervention
Automatic de-tabbing of all parts
Stack (nest) size up to 0.5″ x 48″ x 144″
Overall accuracy 0.001"
Repeatability 0.0003″
30,000 RPM spindle with 35-40 horsepower continuous rating
Automatic tool setting and breakage detection
Tool change time <2 seconds tool to tool
20 tool capacity automatic tool changer (we provided 48 tool capacity)
Routing feed rate up to 2,000 IPM
Anti-backlash drives (we provided zero backlash direct drive linear motors)
Acceleration/deceleration >0.25 g (we provided 0.5 g)
Sacrifice sheet return system with capability to flip sheets over
Capable of running 3 shifts per day, 5 days per week
from pencil drawn customer concept…
1. Raw material staging area
2. Automated material handling system
3. Load table
4. High speed router
5. Unload table
6. Sacrifice sheet return conveyor
7. Sacrifice sheet flipper
We received another order for a stack routing system from a major aerospace company in December 2006. Unlike the first system that was assembled by another company, we built this system from the ground up in our own facilities, including weldment fabrication and machining, electrical panels and wiring, and installation of lube, coolant, hydraulic and pneumatic systems.